[insert creative title] :)
Hello everyone! I'm back! Thanks for all your beautiful comments on the last post, it's really nice to have comments and people reading my blog. I know, I know...I say it everytime but it's true! I promise!
This might well be a *long post* (well, I have to make up for yesterday's absence, don't I?!) so if you hate rambles close the window right NOW! LOL. First, I'm glad you all found my post-processing stuff interesting as only fellow photographers would. Stacey, sorry I was mean to your JPEGs but I do love my RAW! To answer questions, I shoot in Adobe RGB as my colour space and my camera parameters are +1 contrast and +2 sharpening. Everything else is at the big zero. :)
Now we have the boring stuff out of the way let's get onto the more interesting (well, hopefully) stuff. I loved being at my grandad's house. My grandmother died 18 months ago, she had Alzheimer's, and my grandfather is one of the strongest people I know. He cared for her right until the end even though she had no idea who he was anymore and he's still smiling today. In fact, he laughs at everything! I love my grandad.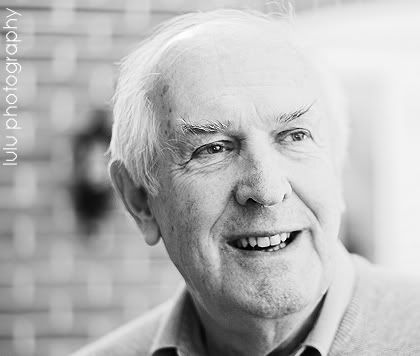 It was nice being able to spend 'quality time' with my sister too. She's the complete opposite to me...pretty cheeky, very loud, boisterous, funny and very sporty. We're best friends all the same. Well, most of the time anyway! We had Easter egg hunts in our grandfather's garden and we played cards and hide and seek and it was just fun. He lives in the heart of the countryside and we don't often stay the night so it was nice to this once. just one snap I loved...my sister was co-operative for photos, as long as her face wasn't in it! LOL! Defeats the object really but of course I didn't turn down the chance. :) B&W or colour?
My grandfather has an equally mischevious dog, a Westie...a nice dog who doesn't try to kill you and your cat. I love little Tilly Mint...such a sweetheart! We had ice-cream today and she gave me these massive impossible-to-refuse puppy dog eyes until I gave her some. She sure knows how to get her way, that one, but seriously you just can't say no to her! My mum and I took her for loads of walks since my grandad lives literally in a filed by the beach. I didn't get many beach pictures sadly because it was so windy and I was told to be careful because the sand can get in yours lens focusing mechanism and make it faulty so I was kinda wary about that! Did get a couple of keepers from our early morning walks though. :) It's lambing season too so there were beautiful baby lambs in all the fields, some of them only hours old. One came up and nuzzled into my legs and my heart just stood still for a moment, it was so beautiful and fluffy and young.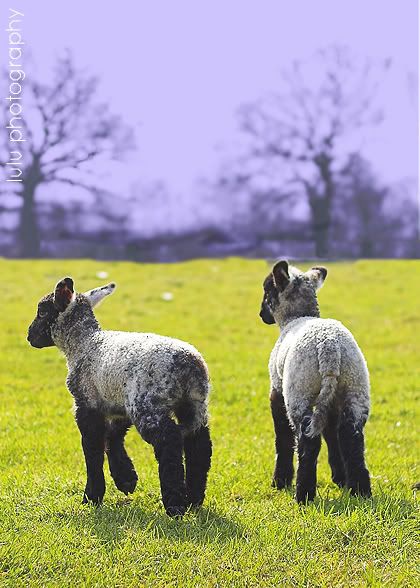 See, aren't the lambs just gorgeous? *insert massive red heart*! We also went to this beautifuly dinky little shop by the beach where my mum bought some cute birthday presents for her friends and some fun Easter treats. It was run by these two Danish ladies who were totally cool and talked to use for hours! They even gave me this special sweetie thingymajig they had left over from Christmastime and as soon as I saw it, I just thought how perfect it would be in a picture. I couldn't bear to eat any because it was so pretty so I left it with my grandad! Isn't it just sooo cute? :)
I told you so! Anyway, my mum wants me to teach her photography. I said I would, in the summer, and it'll be nice to actually have some photos of me. I cannot wait until the long glorious summer after my exams when I'll have nothing to do but laze around in the sun and take pictures and read long novels. *sigh* Pure bliss. Here's one my mum took of me today though, excuse the film-starrish look going on....LOL I look a bit haughty I guess but I promise I'm not at all! LOL. Isn't my mum a pretty good photog? This was practically sooc for her minus sharpening!
And's that's it! Wow, what a big post! I swear I have never posted that many images in one go. Hope I didn't bore you tooooooo much. :) Thanks for reading. Love Miss Lulu.